The 2019 Tour Blog
Photo of the tour group in Castletownbere, courtesy of my sister Brenda O'Malley-Farrell who is along with us on the trip. She is in the pink jacket in the front row.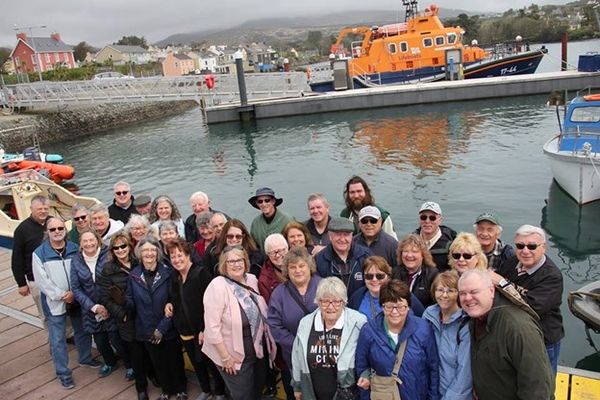 DAY ONE: Dublin to Bantry
I woke up on Friday morning last at 4:45am in time to be picked up by manager Chris at 5:15 and driven to Los Angeles Airport for an 8:15 flight to Newark, New Jersey. A packed plane, no sleep and connected at 7:30pm on to Dublin arriving at 7am Ireland time, again with hardly any sleep, another packed plane....it feels like they fly cities worth of people on these international and trans continental flights these days. My greatest concern on this trip was to make sure all thirty five travelers would meet up at the three appointed spots to board the coach.....and they did....now I could breathe. 
With my trusty and loyal driver Paul Hastings at the wheel we left Dublin right on time at 9am and headed south west for Bantry Bay. Quite a few of our fellow travelers have been to Ireland before but for many, it is their first adventure here. After a quick comfort and coffee stop in Co. Kildare, we drove all the way to Cork city and ate lunch and had a tour of the English Market, the best of Irish produce, dairy, meats and fish anywhere. Back on the bus and headed west for Bantry. 
On our way I surprised the group with a pit stop in Gougan Barra, a tiny church at the edge of a lake, said to have been built by Saint Finbar, the patron saint of Cork, in the 7th Century. Very popular for weddings, and of course there's a pub right next door. Speaking of pit stop, we were treated to seeing about twenty classic cars from the Crosshaven Motor Club out for a jaunt that day. Several MGs from the 60's, a few old Rovers, one Rolls Royce, some Vauxhalls, an original Mini and a right hand drive 50's Porsche Speedster. Everybody here is so friendly, just enjoyed chatting with the drivers.
We got to Bantry in time for 6pm dinner....great food here BTW, and then we were welcomed after at the local Irish Tourist Office by the Mayor of Cork County and several county councilors. The Bailey's and Irish Coffees were a treat for everyone and speeches and a requested song by yours truly topped off the reception. We adjourned to our hotel bar and were entertained by two gray haired singers who were ok at playing but very funny with their one liners. At this point I was shattered and said good night to all...
DAY TWO: To Castletownbere and on to the Allihies Copper Mine Museum

Ah yes, the hearty Irish breakfast awaited us on our second morning in Ireland. I had described the ingredients, in detail, on our bus journey the day before. Irish sausages, rashers (slices of fried bacon), black and white pudding (no comment), baked beans, fried mushrooms, and your choice of eggs. All kinds of breads, toast, pastries, fresh fruit, yogurt, cereals, cheeses, and salamis etc, etc. Juices, coffee, tea....Some people tried the puddings, but I didn't hear any, "Gee Ken, they're delicious ".... quite the contrary...I love the stuff...basically the black is blood pudding, and the white is any other shite that's left over in the butcher shop ground up, add spices and voila...yummy...

We had a massive day ahead of us and we hit the road about 10am...two people (nameless) didn't make it, the pains from too much fun the night before. We drove to Castletownbere, my mother's home town, and were met by Jim O'Sullivan who is the Tourism Ireland rep of the area. He gave us a talk about the fishing history of the port over coffee and scones in the Beara Coast Hotel lounge. He then walked us over to the Royal National Lifeboat Institute, around since about 1800, this particular station just over 22 years. We were treated to stories of rescues and bravado, many quite humorous by six local volunteer lifeboat men. They go out to rescue in ALL weather, no exceptions. One lad put on the bright yellow outfit and demonstrated the gear for us. We were not allowed on board the vessel as they are ready to go at a moment's notice. One story went they arrived back in after a rescue one day, called the local pub for six steaks and six pints, only to be called out again before they got out of their gear....the steaks were overdone when they returned the second time, but they were given fresh pints. 

We headed out to Allihies next to the Copper Mine Museum for a lecture and lunch. Bear in mind more than half of our group is from Butte, Montana where thousands of people left the Beara Peninsula and other parts of West Cork as well as the rest of Ireland, and went to work the hard rock copper mines in Butte from 1880 forward. This lot were fascinated by this exhibition and lunch was very good too. We drove back to Dunboy Castle, home of the great O'Sullivan Beara clan, who were the last hold outs following the defeat of the Irish at the Battle of Kinsale in 1601. Less than a year later the castle was pounded by the English Navy guns and the 143 defenders were slaughtered, many of whom had surrendered. About 26 miles away O'Sullivan Beara himself and 1200 of his family and followers, men, women, and children made the historical famous trudge march up to join Hugh O'Neill in the northern part of Ireland. By the time they arrived after fourteen days, there were 35 still alive. They had been attacked by both English and Irish on the journey.

Right next door we saw the famous Puxley mansion, original home to the guy who discovered the copper in the 18th Century. Too many details to this part of the story but look it up, the pictures are great. 

On the way back to our hotel, we stopped again in Castletownbere and went into the famous McCarthy's Bar. One of the two daughter's still running the pub regaled us with the story of her father, Aidan McCarthy, a doctor who had an amazing survival history during World War Two....in brief, 1939 he joined the Royal Air Force, survived the beaches of Dunkirk, watched a returning bomber crash land at his airstrip and pulled two survivors from the burning plane. Was posted to Java, the Japanese arrived, he ended up in a concentration camp, was sent on a freighter to mainland Japan to slave labor in a factory, torpedoed by the Americans, was one of 60 survivors out of 1180 on the ship. Rescued by a Japanese warship, when the Japanese realized they were foreign they started shooting them, he jumped over the side and was rescued by a Japanese freighter days later. On mainland Japan worked in a factory in Nagasaki until it was bombed. They had been working underground and when they came up it was just a nuclear wasteland. Thousands of dead bodies lay everywhere and he immediately went to work as a doctor to help anyone he could. Upon hearing of this doctor, the Japanese commanding officer surrendered to him and presented him with his sword, which we were allowed to hold in the bar yesterday....what a story. 

Back to the hotel for dinner after that and I sang for an hour and a half in the hotel bar later. 

DAY THREE: Mizen Head and Skibbereen
Another 8am breakfast began our day and it was nice to see all the fresh faces ready for another outing, this time down to the Mizen Head Light Station and the famous town of Skibbereen, from the Famine Great Hunger of the 1840's. Interesting to mention breakfast and famine in the same sentence, but it so happens that the food at the Maritime Hotel in Bantry, where we are staying, is excellent and our emotions were torn when I showed the group the burial ground just outside Skibbereen where over 10,000 people are buried in a space not much bigger than three tennis courts. 

My first cousin Stephen O'Sullivan is the manager at the Mizen Heritage Center and indeed worked on the light station for quite some time during his 19 year tenure at the Irish Lights. The Mizen, as it is known, is the most south westerly point of Ireland and is quite a daunting trek from the visitor center down to the light station. The crashing waves against the rocks are an experience with nature not to be missed. My sister Brenda is along on the trip this time, she has joined me in the past and been a valuable asset to our tour with her former teacher's knowledge of the history and geography of Ireland. We also met Stephen's twin sister Anne and her husband Chris, so it turned into a lovely family reunion.

We left the Mizen about 1pm and drove to Skibbereen, a good sized market town whereupon it is said, it may have been the epicenter of the Great Hunger Famine of the 1840's. A market town in West Cork, virtually unchanged over the last several hundred years, its narrow winding streets a bit of a challenge for our coach, but in the capable hands of our driver Paul, no problem. We all went our separate ways for lunch and on our way back to Bantry, we stopped at the famine burial ground just on the outskirts. A sign spoke of the haunting sounds of the spades digging, the hinges of the coffin trapdoors snapping as another victim was dropped into the mass grave. Yes, recyclable coffins used over and over, if you were blessed enough to even have that bit of decency....many more tossed in off the carts carrying the dead. Another sign read, "Never was bread so dear and flesh so cheap".

I take my fellow travelers to this spot as often as I can and it never decreases the sense of terrible loss and cruelty by the English Government, they had such contempt for others.

In about an hour from there we were back in Bantry, a nice long three hour break before dinner and tonight a well-deserved sleep for all before we leave West Cork and head for Galway City tomorrow evening. A couple of stops on this traveling day and I will catch you all up tomorrow night.

DAY FOUR: Galway and the Cliffs of Moher
Today was a "moving day", a drive to our next hotel destination to Galway, City of the Tribes in the West of Ireland. Upon request from some of our travelers, we added in a stop at Beal Na Blath, the Mouth of the Flowers, in North Cork where the famous Michael Collins met his death in an ambush by the Anti Treaty forces in 1922. Collins, who had survived the 1916 Easter Rising, almost a year in a prison camp in Wales, and returning to Ireland to lead a guerilla war against the British occupation, became the most wanted man in Ireland by the British Government. At the time of the Treaty signing in 1921, Collins believed and quoted that he had "signed his own death warrant" and true enough Ireland was torn in two by a Treaty that allowed six of the nine counties in Ulster in the North of Ireland to remain under British rule. Collins became a general in charge of the Free State forces and on that fateful day July 1922 lost his life due to a mysterious bullet shattering the back of his brain....was it a ricochet or fired by one of his own men....he will always be remembered as one of our greatest heroes.

We then drove to the mighty Cliffs of Moher in County Clare and the sun was splitting the rocks, a miracle of a day. We had lunch there and then drove up through the Burren and into Galway to our hotel for one night, The Imperial on Ayre Square. We arrived close to dinner hour and following a nice meal were regaled by a man from Sligo who told us all about the connection to Butte in the West of Ireland. 
After this wonderful lesson in history, lots of the group took off down the street to listen to traditional Irish music. I'm still trying to get back to normal so I'm off to bed early and see if I can knock out this cold I've developed. Lot's more adventures ahead....until then.... 
DAY FIVE: From Galway to Connemara, Croagh Patrick, and the homeland of the Pirate Queen Grace O'Malley
Many of our group went off down Shop Street last night, somewhat akin to Bourbon Street in New Orleans, and enjoyed many groups playing traditional Irish music. Galway is a college town and the night life never stops.

After breakfast this morning, we drove north west along the coast through Salthill, and on out through Inverin to Spiddle. We stopped, as I promised, at Martin Staunton's Irish Woolens and Souvenir store where copious amounts of money were spent on everything from Irish made soaps and fragrances to expensive linens and tweeds. 

Connemara is one of the wildest and most beautiful regions of Ireland, most of it deserted with just a smattering of cottages and small farms to be seen along the narrow roads. All of a sudden, you round a bend and Kylemore Abbey appears through today's mist. Built in the early 1800's by an Englishman as his home in Ireland and built by one hundred men over four years, it is quite an awesome site in the middle of nowhere. After many years, in 1913 it was occupied by an order of Dominican nuns who had escaped from Belgium, and became a girls boarding school until quite recently. Apparently one of singer Madonna's daughters attended the school. Even during the years as a school, parts of the property were open to the public and these days it is a full on tourist destination with souvenir shops and restaurant available.

The weather was changeable today with some sun and also showers, as we drove on around Ireland's only fjord, Killery Harbor, and past Ashleigh Falls into Co. Mayo. We drove into Louisburg and along the shore of Clew Bay. This is O'Malley country, and I regaled the group with stories of my ancestor the great Pirate Queen of the West of Ireland, Grace O'Malley or Grauniauaile in Gaelic. Her famous life story and power as a woman has never fully been given the credit she was due, though many books have been written about her escapades.

We stopped under the great Croagh Patrick mountain, where Saint Patrick fasted for forty days on it's 2,500 foot summit. At the base is the monastery of Murrisc Abbey, dating to the 12th century, where Grace was most likely baptized and was definitely married there. 

Just adjacent is the National Famine Memorial, a bronze sailing ship with skeleton victims blowing in the wind among it's sails. A very moving reminder once again of man's inhumanity to man by the English government.

We drove on into the Westport Plaza Hotel for dinner and our three night stay. The food, as always here, was delicious and many of the group again have gone out around the town in search of trad music.  Tomorrow we will take off down around Achill Island and I will welcome my very good friend James Keigher from the duo "Men of Worth", to join me in concert here in the hotel...until then...Oiche Mhaith.....Good night...

DAY SIX: Westport and the Butte connection
 
Our final day in Westport was one of a more relaxing drive this morning. We drove out to Balintubber Abbey, built in 1216 by one of the local O'Connor kings, on a site where saint Patrick had built a chapel in 441 AD. It has been said that even during the plundering and mass murders of the Oliver Cromwell period of 1650 to 1652, mass was said every single Sunday since the church was built. It's a lovely spot and we got a history lesson from a lady on site. They were preparing for a wedding after our visit and I believe I may have seen many of the guests in our hotel tonight showing the signs of a wonderful day of celebration.

We then drove on to Turlough House, built in 1855 by the Fitzgerald family and unfortunately it was closed today as tomorrow happens to be Mayo Day and they were setting up the area for a rock concert. The grounds actually feature the Irish National Folk Heritage Center, so we toured through there, looking at Ireland's history and the real implements used in various trades over the last two hundred years. 

Everyone was getting hungry, so we headed back to Westport and dropped the group off in the middle of town to fend for themselves until dinner back at the hotel. I was down in the hotel bar when an elderly woman (85) asked to see anyone from the Butte group. She was listening to MidWest Irish Radio this morning and heard two of the Butte people interviewed on the radio. As I was the only one around, she sat with me and we talked for two hours. Her father had worked the copper mines in Butte from 1911 to 1917 and only returned because his younger brother had died, and he had to take back the running of the family farm. This lady, Delia Sheridan was the last surviving member of her family of ten. She had seven sisters who moved to New York in the '30's and '40's ... give you some idea about the devastation of emigration from Ireland at that time, especially in the West of Ireland.
She knew my father, my aunts, my grandparents, their in-laws etc...and she insisted on paying for the pot of tea. She also ate a plate of fish and chips while we talked.
By the time I got back to my room it was almost dinner time. We had another lovely meal tonight, I had pan fried duck breast and a nice desert. Went across the street to a pub with a few of the group and listened to a guy sing Country and Western songs with backing tracks, sounded like Kenny Rogers in concert if you closed your eyes, not really....he was ok, I enjoyed it....got back safely to my room and I'm off to bed....early rise tomorrow...we're on the Rocky Road to Dublin in the morning at 9am....will catch up....
 
DAY SEVEN: From Westport back to Dublin
We bid farewell to Westport on another beautiful sunny morning, and drove east across Ireland to Dublin. It took Paul, our driver, three and a half hours and included a stop for lunch just before we arrived. Our one port of call today was the Guinness brewery and it was crowded. We dropped the group off as I was not interested in the Guinness....been there, bought the farm. From what I learned from the group, some thought it was great, others not so much. After, a quick run around the center of town, we arrived at our hotel, The Clayton Ballsbridge and checked in. It's a lovely hotel, originally a Protestant girls' school since the early 1800's, on the Merrion Road in the poshest part of Dublin. Very charming.

We had a nice dinner, and several stayed in and some went out on the town. All showed up for breakfast this morning...I fell asleep watching "Dirty Harry", I must have been tired. Will catch up on our final day tomorrow.... 

DAY EIGHT: Dublin, Kilmainham Gaol and farewell to all at the conclusion of a wonderful tour! Planning now for 2020 . . .

We gathered after breakfast and left the hotel for our drive to Kilmainham Gaol on the outskirts of the city, in fact the gaol which opened in 1796 is across the street from one of the few ancient remaining gates to the city. Originally built to house 100 inmates, during the Famine years of the 1840's there were close to 2000 people housed there...as you can imagine, there was food and shelter and relative safety at that time.

After the Irish Civil War, the gaol was closed in 1924 and remained derelict until local volunteers began tidying and cleaning it up in 1965, prior to the 50th anniversary of the 1916 Rising. My father and I happened upon the open gate on a Sunday afternoon, coming back from a golf tournament ( I was his caddie), and we went inside. The volunteer workers told us to have a look around and I believe I can say at age 11, I was probably one of the youngest and first people inside that gaol since 1924. It housed prisoners from five different Irish rebellions, 1798, 1803, 1848, 1867 and of course 1916....as well as Anti Treaty prisoners in the Civil War.

It is one of Ireland's most visited sites and the fact that 14 out of 16 of the 1916 leaders were executed by firing squad there is a significant link to our history.

Suffice to say, our group was quite moved by the experience. 
We dropped most of the group off at the bottom of Grafton Street, one of our most popular pedestrian thoroughfares and Paul picked them up in time for our final dinner together at the hotel. Following dinner, my sister Brenda and my brother Raymond joined us for a sing song in the hotel lounge. We enjoyed the presence of some other hotel guests including Spanish students, and visitors from Japan and Romania who sat and enjoyed our little concert.

It was a lovely finale to a wonderful tour and I must say, apart from my travelers from Los Angeles, Seattle and Nashville, the folks from Butte, Montana were so intertwined with locals and researched their relatives everywhere we went around the South West of Ireland, so many of them met new cousins and embraced some they already knew.

I will certainly lead another Butte group either in 2020 or 21, or both and I am also planning a tour of Ireland's Ancient East next year....probably both in April. 

Without question, I believe the gratitude and excitement generated throughout the group has shown me that this may have been my best trip yet....

Hoping all arrive back home safely, some went on to other cities in Europe, some spending a couple of more days in Ireland, I look forward to seeing you all when I return next week...Go raibh mait agaibh go leir......Thank you all so much...Cionnaith....Ken